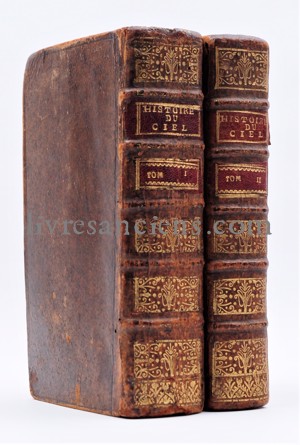 [PLUCHE, Noël Antoine]. Histoire du ciel, où l'on recherche l'origine de l'idolatrie, et les méprises de la philosophie sur la formation, & sur les influences des corps célestes.
Paris, Veuve Estienne, 1740.
Two 12mo (164x96 mm), frontispiece, xxxvii-(3)-518 pages and 24 plates / (4)-496-(4) pages. binding : Contemporary full mottled calf, spine gilt in six compartments, title and volume number in gilt on lettering-pieces. One cap chipped and spines faded.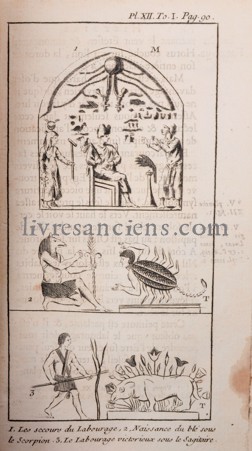 Second edition.
references: Caillet [III, 8756 : "ouvrage utile à toute personne s'occupant de l'occulte: on y trouve des renseignements précieux. Il est ainsi divisé : Le Zodiaque, L'Ecriture symbolique, les Cérémonies symboliques, la Théogonie, la Divination, Les Principes d'Alchimie."].
Price : 200 €