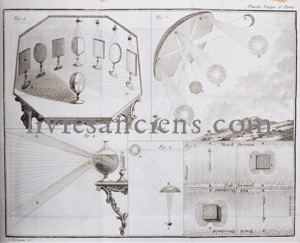 RABIQUEAU, Charles. Le microscope moderne, pour débrouiller la nature par le filtre d'un nouveau méchanisme physique universel.
Paris, Demonville- chez l'auteur, 1781.
8vo (196x118 mm), (8)-364-(4) pages and 3 folding plates, 1 table on the "méchanisme universel" and 1 map. binding : Contemporary full speckled sheep, spine gilt in six compartments, title in gilt on lettering-piece, sprinkled edges. Joints splitting on few centimeters and covers a little chipped. A staining on the first leaves.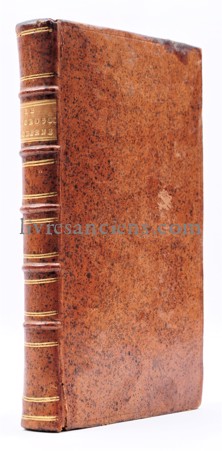 Rare first edition. Fine copy.

Charles Rabiqueau was physicist and the king engineer optician. He also gave experimental physics course.
The first part deals with the elements and principles that animate the Earth, Sun and living beings, while the second discusses the different phenomena that govern them celestial and terrestrial elements. There are several observations on magnetism, electricity, stars, comets, meteors and eclipses, etc.
Price : 600 €