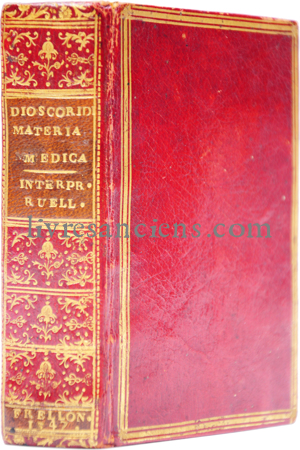 DIOSCORIDES, Pedanius || RUEL, Jean. De medica materia libri sex.
Lyon, apud Joannem Frellonium, 1547.
16mo (109x71 mm), (4)-543-(157) pages. binding : Eighteenth-century full morocco, triple gilt fillet on covers, gilt flat spine, title in gilt on lettering-piece, gilt edges. Minor repairs to title page.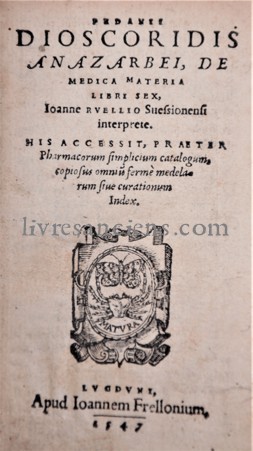 First edition of the Jean Ruel's latin translation of the ledica materia.
Jean Ruel, was a botanist and physician to Francis I of France.
"De medica materia" is one of the most famous book of ancient pharmacology, by Dioscorides (1st century AD, Greek physician, pharmacologist and botanist). Fine copy.
It was one of the major sources for the knowledge of plant, animal and mineral remedies until the end of the Renaissance.
Price : 1250 €