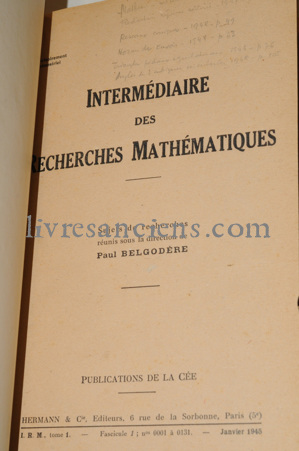 BELGODERE, Paul. Intermédiaire des recherches mathématiques.
Paris, Hermann et Cie, 1945 à 1949.
8vo (235x150 mm), 128-128-120-28 pages. binding : Contemporary half calf a little rubbed. Different paper with the different issues. original wrappers of the first issue is preserved.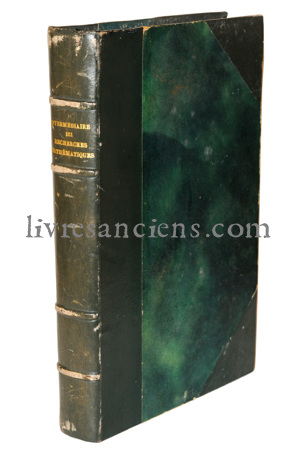 First edition

Complete set of the entire publication of the journal "Intermediate of mathematical research" directed by Paul Belgorède:
Volume I: 1945 Booklets 1,2,3,4
Volume II: 1946 Booklets 5,6,7,8
Volume III: 1947 Booklets 9,10,11,12
volume IV: 1948 Booklets 13,14,15,16
Volume V: 1949 Paper 17

magazine that we would call today a social network of mathematicians. The principle was to write to the magazine to ask a question, a problem, a connection request that publishes as a message to which readers can respond in another booklet.
Price : 450 €