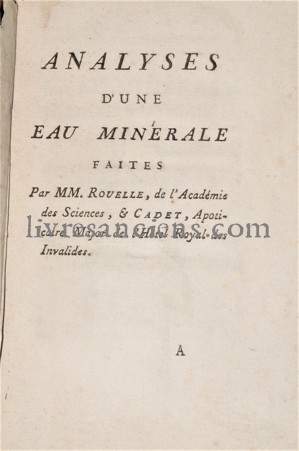 ROUELLE, Guillaume-François || CADET, Louis-Claude. Analyses d'une eau minérale de Monsier & de Madame Calsabigi, nouvellement découverte en leur maison de Passy.
[Paris], s.n., [1755].
8vo (190x125 mm), 29 pages. binding : Contemporary original wrappers. Dirty paper, a corner of the title page cropped.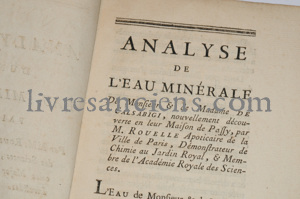 First edition.
Very rare booklet on chemical anaysis done in 1755 by Guillaume-François and Louis-Claude Cadet of a mineral water found in Passy by Mr and Ms. Calsabigi.
The analysis by Rouelle will be further published in extenso in 1757.
As the master of the distinguished chemists Lavoisier, Macquer, D'Arcet, Bayen, Venel, et al., as well as such nonscientists as Diderot, d'Holbach, Rousseau and Turgot, Rouelle occupies a very important place in eighteenth-century chemistry and science generally (see D.S.B.).
references: Duveen [p518], Neville [II, p. 398 (the 1757 ed. only) : "All Rouelle's works are rare, and this title is the rarest"].
Sold