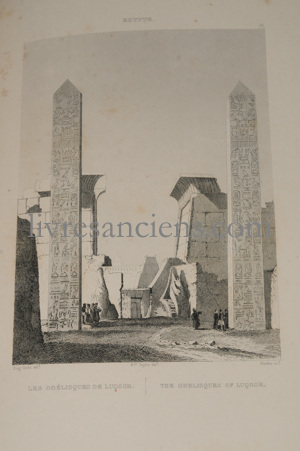 TAYLOR, Isidore || REYBAUD, Louis. La Syrie, L'Egypte, La Palestine et la Judée considérées sous leur aspect historique, archéologique, descriptif et pittoresque.
Paris, Chez l'éditeur, 1839.
Two volumes strong 4to (260x210 mm), (4)-iv-308 pages and 83 plates / (4)-347 pages and 104 plates (10 plates are missing in this volume). binding : Half chagreen from xixth century, spine with five compartments. Paper with foxings.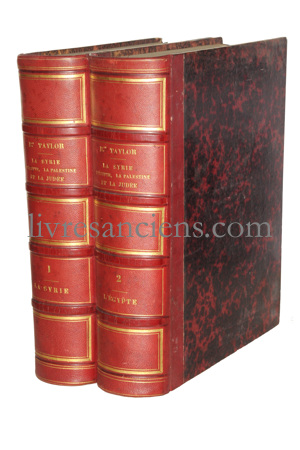 First edition.
Monumental work directed by Baron Taylor on the Middle East, illustrated by numerous engravings after Dauzats, Mayer, Ciceri ... We see in particular the ruins of Palmyra in Syria and the obelisks of Luxor in their original configuration (before one of them is set up in the Concorde).

"His taste for archeology led him to protect old monuments falling into ruins and to form the project of transporting some Egyptian monument to France to preserve in Paris the memory of French domination. After many difficulties, it is thanks to him that, on December 23, 1833, one of the two obelisks of Luxor was landed. " (biographical note of the educational research institute, 1986).
Price : 950 €