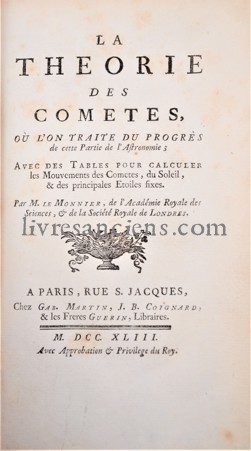 LE MONNIER, Pierre-Charles || [HALLEY, Edmund]. La Théorie des comètes, où l'on traite du progrès de cette partie de l'astronomie;
avec des tables pour calculer les mouvements des comètes, du soleil, & des principales étoiles fixes.
Paris, Gab. Martin, J.B. Coignard, & les Freres Guerin, 1743.
8vo (195x120 mm), (6)-xlvi-192-(8) pages, one folding table and 4 folding plates. binding : Contemporary full mottled calf, spine gilt in six compartments, title in gilt on lettering-piece, red edges, marbled endpapers. Binding rubbed, caps and corners worn, joint starting to split at the tail of spine. Some foxing. Plates cropped, touching the title.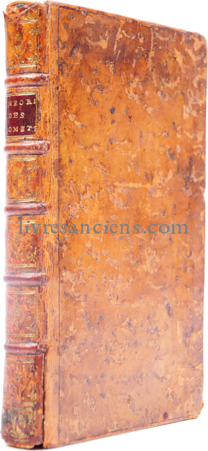 First edition in french of the 'Cometographia seu Astronomiae cometicae synopsis' of Edmund Halley (first ed. in 1705).
Halley's text includes the famous prediction of the comet that was to bear his name.
This succcessful prediction acted as a strong independent confirmation of Newtonian gravitation
The Monnier adds to the translation of Halley's treatise, a supplement on the progress made since on the Theory of Comets as well as observations on a comet that appeared in 1742.
references: Houzeau & Lancaster [11947], Sotheran [2544 : "A translation of Halley's 'Synopsis, with addition by Le Monnier"].
Sold