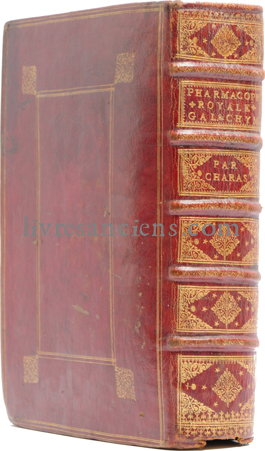 CHARAS, Moyse. Pharmacopée royale, galénique et chymique.
Paris, Chez l'auteur, 1676.
4to (280x208 mm), frontispiece, (12)-1060-(34), 6 plates. Leaf Dddd extended and re-margined. binding : Contemporary full red morocco. Spine gilt in six compartments with raised bands, lettered in gilt. Covers panelled in gilt, with ornaments at corner. Gilt rolls on edges. Gilt rolls on turn-ins. Gilt edges. Binding rubbed. Tail of spine chipped. Few foxing.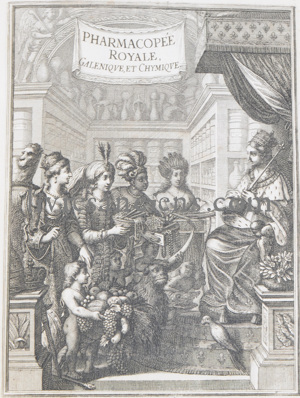 Pharmacist born in Uzès in 1618, Charas studied chemistry at Orange, then he came early to Paris, where he was appointed demonstrator in chemistry at the royal garden of the king.
His writings are still marked by the alchemical theories.

His pharmacy is the fruit of his lectures given in Paris and his studied. It had a great success, was reprinted many times and was translated into all European languages and even in Chinese for the convenience of the Emperor.
There are descriptions of many preparations, recipes and other remedies panacea.

Rare first edition, dedicated to Colbert.
Beautiful allegorical engraved frontispiece six engraved plates of copper furnaces, tools, pots and retorts, chemical symbols, etc..
Copy with the manuscript ex libris of Henry Charas, a son of Moses and who was also an apothecary.

Henry Charas's copy.
A larger paper copy.
references: Caillet [I, 2198].
provenance: Manuscript ex-libris on title of Henrici Charas pharmac. paris.
Price : 3900 €