[TEXTILE]. Recueil de maquettes et dessins pour l'industrie Textile.
[Alsace], s.n., [1860-1880].
Folio (418x265 mm), 100 pages. binding : In its first wrappers, a little soiled with a label "JB n°9" and stamps of J.Claude Frères, 32 rue du Sentier à Paris.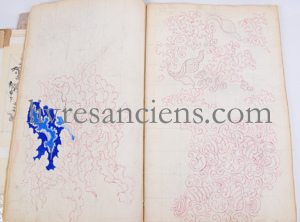 Collection of models and drawings for the textile industry, and more specifically, the Indianization, between 1860 and 1880.
Drawings and surveys in red ink on heavy grid paper at the mine. Mainly studies for flower or vegetable compositions inspired by Japonisme (Aromas, lily of the valley, hawthorn, blueberries, berries, roses, peonies, Iris, coral branches and water lilies ...)
Some models in monochrome medallions with repeated geometrical decoration for the textile printing.
Price : 600 €