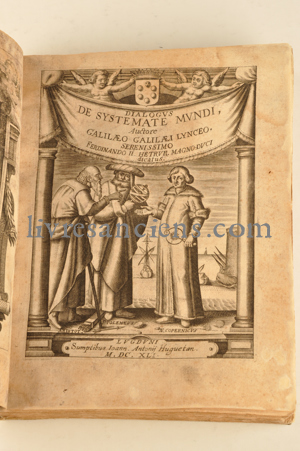 GALILEI, Galileo [Galilée]. [Dialogo]. Dialogus de systemate mundi - Systema cosmicum, in quo quatuor dialogis, de duobus maximis mundi systematibus, Ptolemaico & Copernicano... disseritur.
Lyon, Jean-Antoine Huguetan, 1641.
4to (8,9x6,8 inches) of [8] ff., 378 pp., [11] ff.One title frontispiece representing Aristote, Ptolémée and Copernic, The portrait of Galileo and few woodcuts in text. binding : Contemporary full vellum. Flat spine. The extra engraved half-title is bound after the portrait.
The binding was waterstain affected, reaching mostly the first pages. It has been expertly restored. The body of the book has been disassembled, cleaned and reassembled. With the elongation induced, paper exceeds a few millimeters of the binding. Some gatherings are fairly heavily browned as usual.
Still a good copy in its old vellum binding.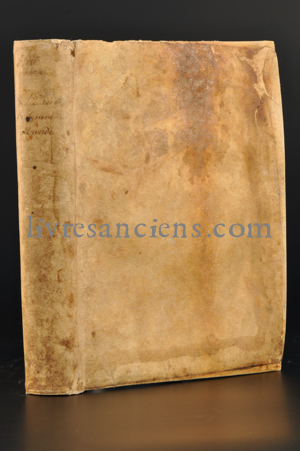 Second latin edition of galileo's most famous work, containing his defence of the Copernican system. This was the treatise that led directly to Galileo's trial for heresy in Rome. Urban VIII identified himself with Simplicio, one of the three participants in the dialogue (along with Salviati and Sagredo), and to avenge this slight he had Galileo arrested while Galileo's protector the Grand Duke of Tuscany was absent from Florence. Simplicio's role in the Dialogo was to be a "filosofo peripatetico" who would cling doggedly to the writings of Aristotle, despite contradictory evidence provided by the learned Salviati (a friend, representing Galileo's Copernican stance) and Sagredo (another of Galileo's friends, an amateur with an informed interest in the new astronomy).
Sold