ADANSON, Michel. Familles des plantes. 1763.
ADANSON, Michel.
Familles des plantes.
Paris, Vincent, 1763.
Two 8vo (193x122 mm),(4)-cccxxv-(1 b)-189-(1) pages and 1 folding plate / (2)-24-(4)-640 pages. binding : Contemporary full calf. Gilt spine in six compartment. Bindings a little chipped with small lack of leather. A long contemporary manuscript note (page 160 and after 190 of Vol. 1).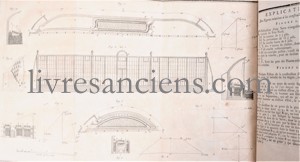 First edition of this important botanical treatise.
references: Pritzel [21], Morton [in "History of botanical Science", pp. 310/311) : "The distinction of having first analysed and explained the theoretical foundation of natural classification, and, what was even more important, of defining the practical method to be used in seeking such classification, belongs without question ot Michel Adanson. His "Familles des plantes" (1763) was a work of historic significance, which gave clarity and coherence to the ideas of the growing number of proponents of the "Natural method". It became the main formative influence in developing natural classification in France, and in ensuring its success"].
Price : 1500 €