ALBIMONTANO ETZLERO, Augusto (August Etzler). Isagoge Physico-magico-medica. 1631.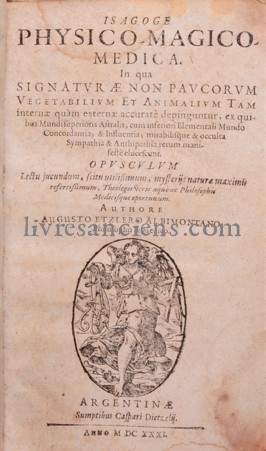 ALBIMONTANO ETZLERO, Augusto (August Etzler).
Isagoge Physico-magico-medica.
Argentinae (Strasbourg), Caspari Diezelij, 1631.
8vo (172x104 mm), (6)-176-(10) pages. binding : Contemporary full limp vellum, flat spine with manuscript lettering. Two important waterstains on margin of pages, at the beginning and at the end of volume. Two minor worm's works on the corners of first pages.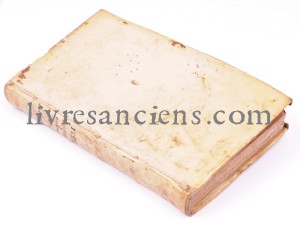 Treaty of "Astrological Medicine", in which August Etzler connects celestial and terrestrial worlds, planets with plants, animals, men, metals and diseases that can be related.
references: Neville [I, p. 430 : " Emphasizing the doctrine of signatures in plants and animals, this book relates sympathy and antipathy with the rule of celestial over inferior terrestrial bodies. A chapter is devoted to each planet and the plants, animals, human types, metals, places, and diseases related to it. Of iatrochemical interest, the works of contemporary chemists are mentioned. Duveen describes this as a 'curious work'. Almost nothing appears to have been recorded of Etzler and his life. [...] A very rare book, which is not in most of the major chemical and medical libraries."], Cantamessa [2437].
provenance: R. Durand (bookplate).
Price : 600 €