ARAGO || LAMARTINE, Projet de décret relatif à un crédit.., 1848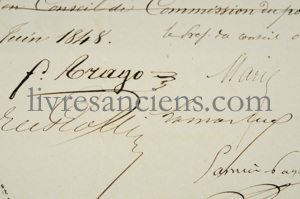 ARAGO, François || LAMARTINE, Alphonse de.
Projet de décret relatif à un crédit supplémentaire de Dix mille francs pour la réimpression des Œuvres scientifiques de Laplace.
s.l., s.n., 22 juin 1848.
Manuscript folio (310x204 mm), (3) pages. binding : Paper leaves from Minister of education.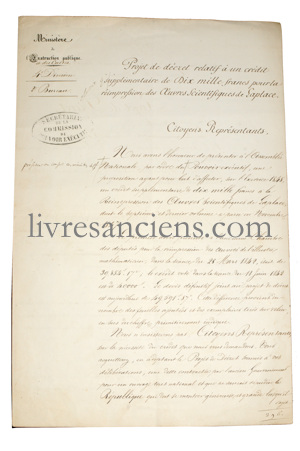 Rare document signed by Lamartine and Arago.
Draft decree to allocate 10,000 fr to continue the reprint of the Works of Laplace. This had been allocated 40,000 fr in 1842 but the initial estimate having been exceeded, money had to be added to the project.

The document is drafted by the Secretary of the Executive Power Commission and is signed by all the members of this commission: François Arago, Alphonse de Lamartine, Louis-Antoine Garnier-Pagès, Alexandre Ledru-Rollin, Pierre Marie de St Georges.
Rare testimony of this commission which lasted only for the months of May and June 1848 and which saw the Scientist and the Poet at the top of the French State.
Price : 450 €