[AUX ARMES de DE THOU] Historiae Romanae epitome, 1625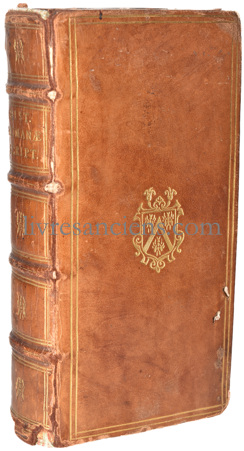 FLORUS, Lucius Annaeus et alii.
Historiae Romanae epitome.
Amsterdam, Guibel Lanss Caesius, 1625.
16mo (110x56 mm), 523-(1) pages. binding : Publisher's full cloth, flat spine. All edges gilt. Caps worn, joint splitted.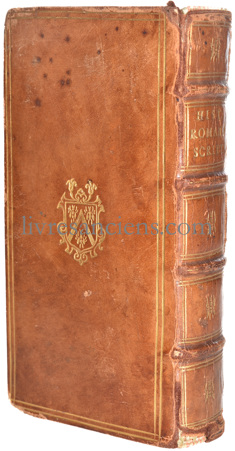 Selections from Roman Historians.

Rare binding with the arms of François-Auguste de Thou (1604-1642), his coat of arms on the covers, flies on the boxes. Eldest son of Jacques-Auguste de Thou, François-Auguste succeeded his father as Grand Master of the King's Library in 1617. take an active part in it himself; he was however condemned to death in Lyon and beheaded on September 12, 1642 on the Place des Terreaux. He had inherited his father's library, which he kept carefully and which passed after his death to his younger brother, Jacques-Auguste. He had the volumes struck, the paternal collection of which he augmented with the simple arms of the de Thou.
references: Guigard, Armorial du bibliophile [IV, 220].
provenance: Bookplate Edmond Stenheil.
Price : 500 €