BAUME, Antoine. Chymie expérimentale et raisonnée. 1774.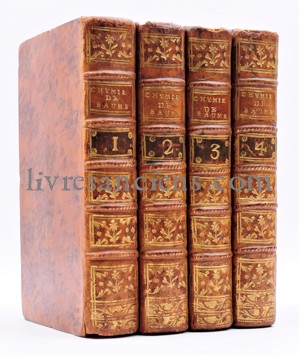 BAUME, Antoine.
Chymie expérimentale et raisonnée.
Paris, P. F. Didot le jeune, 1774.
Four 12mo (163x95 mm), vol. 1: (2)-clxvi-353-(3 bl.) pages and 7 plates / vol. 2: (2)-499 and 2 plates / vol. 3: (2)-506 pages / vol. 4: (2)-492-(4) pages and 3 plates. The third plate of volume 2 is bound at the end of volume 4. binding : Contemporary full mottled sheep, spine gilt in six compartments, title and volume number in gilt on lettering-pieces, red edges. Corners and caps chipped. Some pages browned.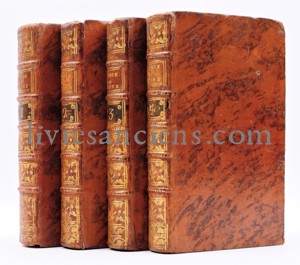 Second edition.

In this book, Antoine Baumé (1728-1804, French pharmacist and chemist) explained the phlogiston theory. This theory is a superseded scientific theory that postulated that a fire-like element called phlogiston is contained within combustible bodies and released during combustion.
references: Neville [I, p. 96: " The second (first 12mo) edition of this excellent work, published by P. F. Didot le jeune, who brought out the first edition in1773. The last two leaves of volume IV carry the 'Approbation' (1 April 1773) and 'Privilege' (19 February 1750. As in the first dition, there are twelve copperplates of chemical apparatus, but these have been reengraved. Of considerable rarity, this edition is not mentioned by any of the usual early chemical bibliographies."].
Sold