[BIBLE POST INCUNABLE] Bible gothique composée par Simon Vincent, 1519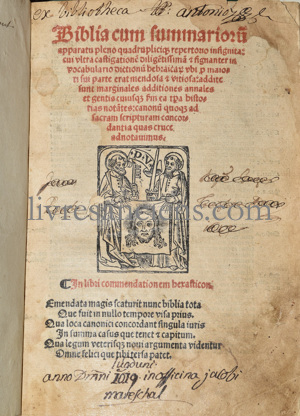 [BIBLE POST INCUNABLE].
Biblia cum summarioru[m] apparatu pleno quadrupliciq[ue] repertorio insignita.
Paris, Jacques Mareschal pour Simon Vincent, 1519.
8vo (175x120 mm), (48)-500-(38) feuillets (leave 272 is missing, replaced by a blank leave). binding : 19th century full sheep, gilt-decorated spine in six compartments. Stains on the edge. Hole on title page and first leavs.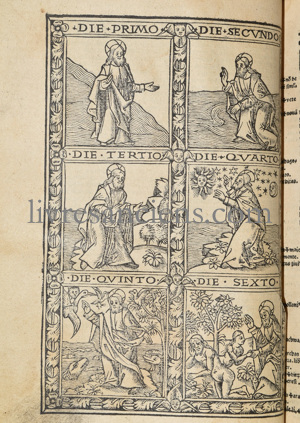 Gothic Bible composed by Simon Vincent and printed by Jacques Mareschal in Lyon.
Title page printed in red and black with woodcut vignette (repeated in collophon). Beautiful full-page engraving representing the six days of Creation, initials engraved on wood.
references: Baudrier [XI, 401 : "Réimpression des éditions de 1510, 1514, 1517"].
Sold