BILLY, Jacques de. Le Tombeau de l'astrologie judiciaire. 1657.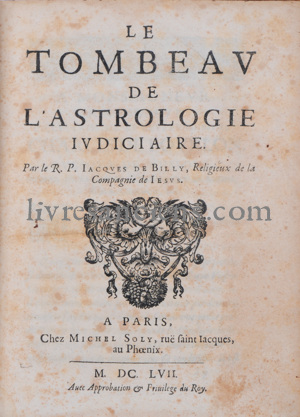 BILLY, Jacques de.
Le Tombeau de l'astrologie judiciaire.
Paris, Michel Soly, 1657.
4to (232x169 mm), (12)-196 pages. binding : Contemporary full sheep, spine in five compartments lettered in gilt. Binding slightly caps and corners worn. Foxing.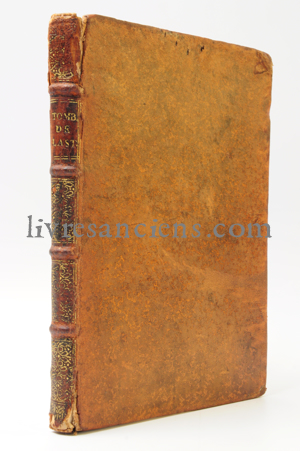 Rare first edition.
references: Caillet [I, 1159], Guaita [60 (ex. inc.) : "Volume rare"], Cantamessa [I, 889], Thorndike [VII, p. 309 : "After an opening chapter on past opponents of astrology, he confined himself chiefly to criticism of details of astrological technique, such as Pars fortunae, Hylech, Alcochoden, degrez tenebreux, and significator and promissor, coming only in Chapter 18 to the pernicious consequences of judicial astrology, and closing with two chapters giving examples which the astrologers adduced in their support."].
provenance: Marquis de Saporta (engraved armorial bookplate).
Price : 600 €