BOIVIN, (Vve) || DUGES, Atlas des Maladies de l'Utérus, 1833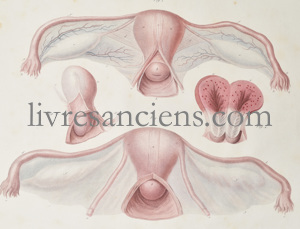 BOIVIN, Marie Anne Victoire || DUGES, A.
Traité pratique des maladies de l'utérus et de ses annexes fondé sur un grand nombre d'observations cliniques - ATLAS.
Paris, J. B. Baillière, 1833.
Folio (435x300 mm), 39 pages and 41 colored plates. binding : Contemporary quarter calf. Spine to restored. Paper with foxings;.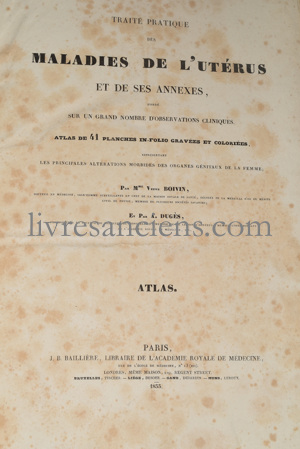 First edition.
Atlas grouping 41 spectacular plates in folio in color, according to the drawings of Mrs. le Vve Boivin.
"Mme Boivin was one of the most famous of the Paris midwives." Garrison Morton.
references: Garrison-Morton [6028 :"Boivin and Dugès practiced amputation of the cervix for chronic ulceration."] Heirs of Hippocrate [1282: "The folio atlas with its forty-one colored engravings drawn by Boivin illustrate the most common pathological states of the female genitalia."].
Price : 400 €