BOURGEOIS, Observations diverses sur la stérilité, 1626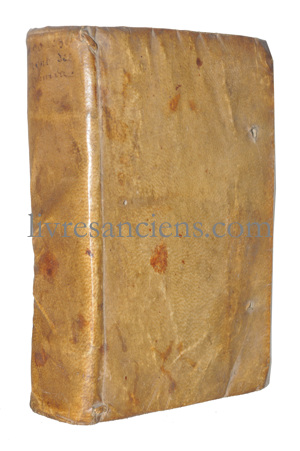 BOURGEOIS, Louise.
Observations diverses, sur la stérilité, perte de fruict, fécondité, accouchements et maladies des femmes et enfants nouveaux naiz.
Rouen, Thomas Dare, 1626.
8vo (164x107 mm), (16)-233-(7) pages / (8)-251-(5) pages (a portraict is missing, pages 103 to 108 on second part are missing). binding : Contemporary full vellum. Leather link are missing. Thin paper on first pages.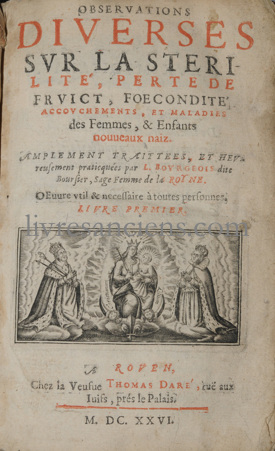 Third edition.
First obstetrics book written by a midwife.
Louise Bourgeois (1563-1636), known as La Boursier, is known to have given birth to Queen Marie de Médicis.
His treatise, published in 1609, was enriched with a second part in 1617 and a third in 1627 (this third part is missing from our copy).
references: Garrison-Morton [6145 : "The first book on obstetrics published by a midwife. Louise Bourgeois was accoucheuse to the French court. She was one of the pioneers of scientific midwifery; her Observations was the vade mecum of contemporary midwives. She induced premature labor in patients with contracted pelvis, an idea probably derived from Paré."].
Price : 490 €