[BOURGOGNE] De l'Origine des Bourgongnons, 1581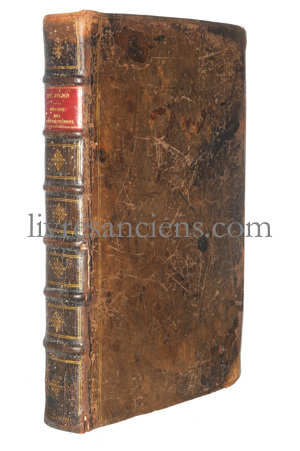 DE SAINCT JULIEN, Pierre.
De L'Origine des Bourgongnons, et antiquité des estats de Bourgongne.
Paris, Nicolas Chesneau, 1581.
Folio (332x214 mm), (32)-674-(34) pages including 1 plate with arms of Sainct-Julien (printed in black & red) and 6 folding maps. Each part have his own title page but with continuous numbering. binding : Contemporary full calf, spine with seven compartments. First flyleaf unbound. Covers rubbed, corners bumped. caps and corners formerly restored. Title piece renewed.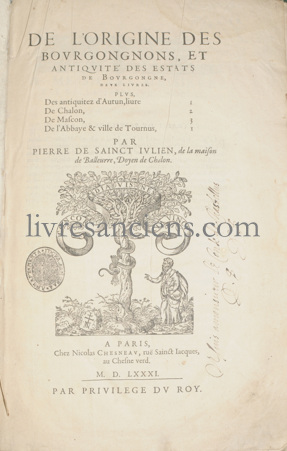 First edition.
One of the most sought after books on the history of Burgundy.

Complete copy with all the plates representing the cities of Dijon, Beaune, Autun, Mascon, Chalon sur Saone and Tournus.
references: Brunet [V, 51].
provenance: Ex libris from Count of Chastellux. Stamp and bookplate unidentified.
Price : 2800 €