BOUTET, Henri. Paris - Croquis 1888-1889. 1888-1889.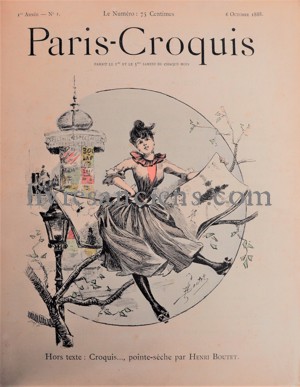 BOUTET, Henri.
Paris - Croquis 1888-1889.
Paris, [Henri Boutet], 1888-1889.
Twenty-eight issues bound in one 4to (277x223 mm), complete collection with 28 plates including the calendar of 1889 on China paper and the sanguine. binding : Contemporary half morocco, gilt flat spine lettered in gilt, top edge gilt. The spine is decorated with delicassy, with gilding representing a dancer, umbrellas, birds, flowers, a fan and feathers. Original wrappers bound in. Minor rubbings.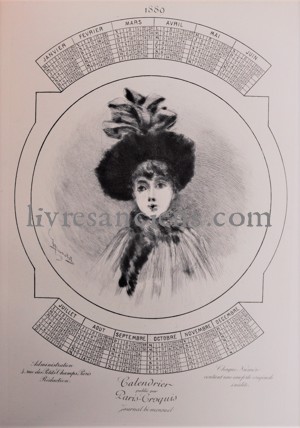 First edition.

This book contains the collection of 28 issues of the magazine "Paris-Croquis" created, illustrated and published by the artist and engraver Henri Boutet (1851-1919), also known as the "little master of the corset". Each issue contains texts, by different authors, which have for main subject the Woman and a plate drawn by Boutet.
All issues of this magazine intend to emphasize the Woman and the Parisian elegance.
Price : 900 €