BRISSON, Mathurin. Pesanteur spécifique des corps. 1787.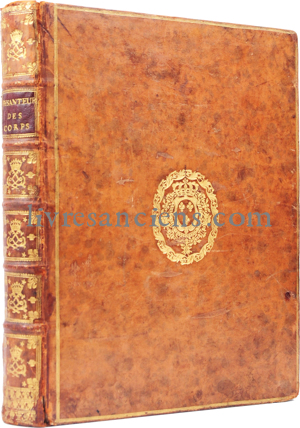 BRISSON, Mathurin.
Pesanteur spécifique des corps.
Paris, Imprimerie Royale, 1787.
4to (249x194 mm), (2)-xxiv-453-(1 bl.)-xx-(2) pages and 2 folding plates. binding : Contemporary full mottled calf, double gilt fillet on covers, gilt arms on covers, spine gilt in six compartments, title in gilt on lettering-piece, sprinkled edges, marbled endpapers. Binding a little worn. Minor marginal foxing.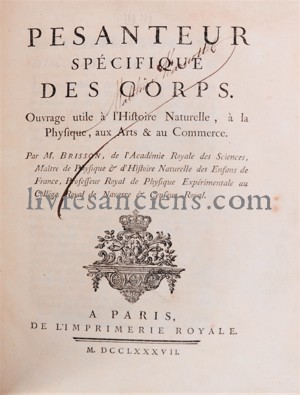 First edition of this important work in gemology.
Brisson's research on density, presented here for the first time, were accurate enough to allow gemologists to distinguish authentic gems from counterfeit.
Brisson (1723-1806) was"a pioneer in scientific gemology because he recognized consistent differences in value between various gemstone species and urged that these be used as a means of identification in conjunction with color and obvious external features, especially crystal shapes, hardness, and single or double refraction. Rare." Sinkankas, Gemology, 932.
Price : 1500 €