LA BROSSE, Guy de. De la nature, vertu et utilité des plantes divisé en cinq livres. 1628.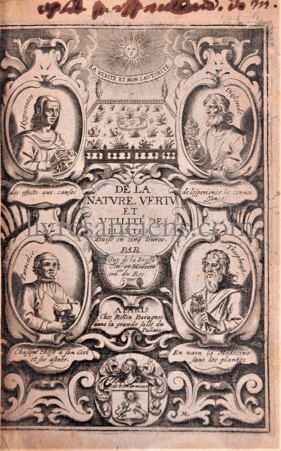 LA BROSSE, Guy de.
De la nature, vertu et utilité des plantes divisé en cinq livres.
Paris, Rollin Baragnes, 1628.
Small 8vo (168x114 mm)., (32) pages including title-frontispiece, P1 : 1-160 pages / P2 : (8), [161]-288 pages / P3 : (8),[289]-440 pages and 3 folding table / P4 : [445]-540 pages / P5 : [541]-680 pages / [Dessein d'un jardin] : [681 (title page)]-849-(29) pages. Some pages misnumbered, two preliminary leaves of part 5 bound after these of part 4. Complete. binding : Nineteenth century full marble sheep. Caps chipped and joints rubbed. Ink stains at the gutter and waterstains. Table leaf p. 443 with small repairs at verso. Margin of table p. 442 cropped at the limit of the text (without lack).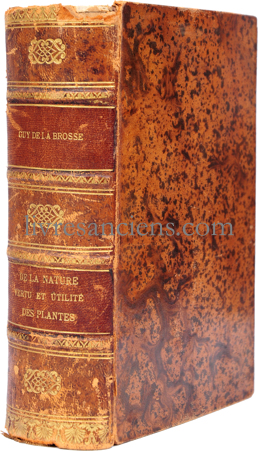 First edition, complete with three folding tables and the frontispiece.
The treatise on nature is divided into five books. Guy de La Brosse attempts to make a systematic examination of plants, from their place in nature and the source of their medicinal virtues, to a discussion of how to classify them and how their virtues can be
known.
It is followed, with a separate title in continuous pagination, by: "Dessein d'un jardin royal pour la culture des plantes médicinales à Paris, où est amplement déduit la raison de la necessité, & quel bien il peut apporter au public. »
There are pleas in favor of the creation of the "Jardin des Plates" addressed to various institutions.
It is indeed to Guy de la Brosse, that finally the Jardin des Plantes, was created and inaugurated in 1640.
Price : 1500 €