CASTEL, Louis-Bertrand. Traité de physique sur la pesanteur universelle des corps. 1724.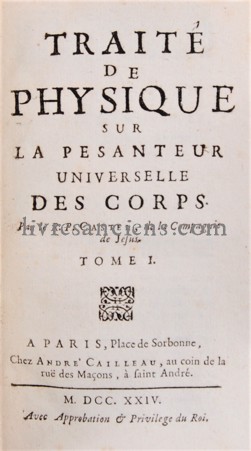 CASTEL, Louis-Bertrand.
Traité de physique sur la pesanteur universelle des corps.
Paris, André Cailleau, 1724.
Two 12mo (161x95 mm), (6)-621-(3) pages / (2)-619 pages. binding : Contemporary full mottled sheep, spine gilt in six compartments, title and volume number in gilt on lettering-pieces, sprinkled edges. Lack of leather on the back cover of volume 1. Minor worms's holes on spines. A tear in margin of pages 373 and 375, with a lack of two lines of text for the first.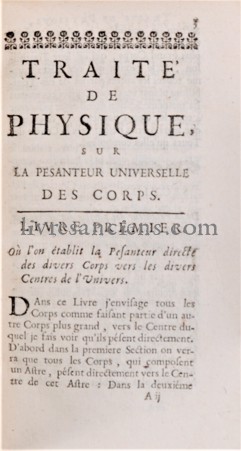 First edition.

Louis Bertrand Castel (1688-1757) was a Jesuit, mathematician, physicist and French journalist.
This book is one of the first scientific treatises published by this author. He explains his theory according to which all the phenomena of the universe are explicable according to two principles, which are: the gravity of the bodies, which makes everything tend to rest, and the activity of the spirits, which incessantly creates the movement.
In France, he was one of the main opponents of Newton's theory of gravitation.
references: Sotheran [716 : "Sa doctrine de la pesanteur était, selon lui, la clef du système de l'univers. Tout dépendait de deux principes, de la gravité des corps qui les faisait tendre sans cesse au repos, et de l'action des esprits qui rétablissait dans cesse les mouvements"], DSB [III p. 114 : "his Traité de la pesanteur attracted a great deal of attention, particularly because it was hostile to Newton ... Although Castel published a creditable anti-Newtonian theory that succeeded in delaying the acceptance of Newton's ideas in France, he his remembered as the spokesman of French scientists who saw in Newton a threat to the prestige of their national hera, Descartes ..."].
Price : 900 €