[CAYAUX ou CAILLOT]. Lettre sur les nouveaux bains médicinaux. 1752.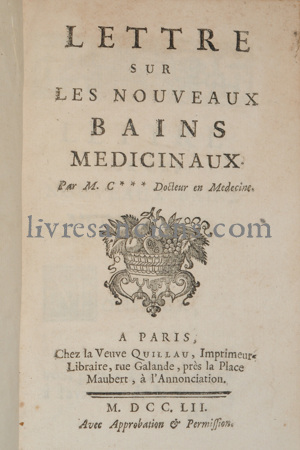 [CAYAUX ou CAILLOT].
Lettre sur les nouveaux bains médicinaux.
Paris, Veuve Quillau, 1752.
12mo (160x95 mm), 84 pages. binding : Contemporary full sheep, spine gilt in six compartments. Binding strongly rubbed, loss of leather on the spine. Little wormholes in the margin.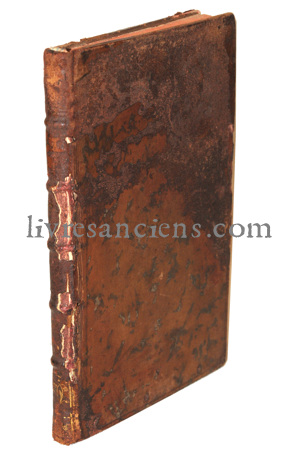 First edition.
Curious work promoting Guérin's machine intended to produce steam for the Baths. The steam generator is inspired by Denis Papin's machine and coupled with different ovens either for the whole body or for the seat alone.
The novelty lies in the possibility of regulating vapors and showers precisely.
references: Carrère, Catalogue raisonné des ouvrages qui ont été publiés sur les eaux minérales [168, "Ces lettres contiennent la description d'une machine inventée par Guérin, pour administrer les bains & demi-bain d'eau simple, les bains de vapeur, les douches, & les fumigations; elles tendent à en faire connaitre les avantages"].
Price : 250 €