DU CHESNE, Traicté de la cure générale, 1625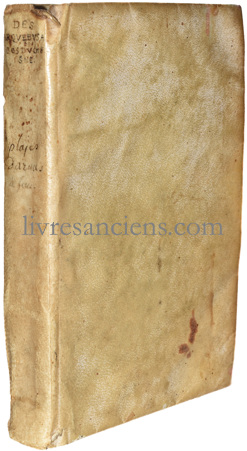 DU CHESNE, Joseph [QUERCETANUS].
Traicté de la cure générale et particulière des arcbusades avec l'antidotaire spagiryque pour préparer & composer les médicaments.
Paris, Claude Morel, 1625.
8vo (167x111 mm), (16)-248 pages. binding : Contemporary full vellum, flat spine. Large light waterstain.
Rare second edition in french (first in 1576 in Lyon).
Two spagiric medicine texts by Joseph Du Chesne, the first feature of gunshot wounds. The assumption then was that the projectiles not only caused wounds of the flesh but also an envenomation which makes these wounds more difficult to heal.
The second text, a spagiric antidote, is a pure treatise on alchemical medicine exposing the doctrines of Paracelsus, of which Du Chesne was a defender.
references: Duveen [492, ed. 1576 latin :"The work treats of the cure of gunshot wounds and was frequently printed. It was translated into French, German and English"].
provenance: Bookplate Crehange.
Sold