[CLERMONT], La Géométrie pratique de l'ingénieur, 1693 EO signé par l'auteur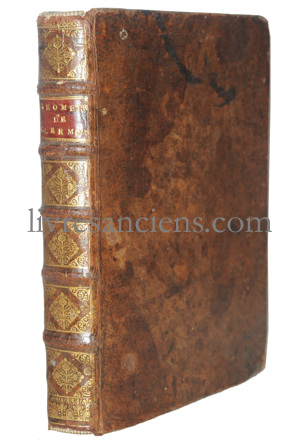 [CLERMONT, Sieur de].
La Géométrie pratique de l'ingénieur, ou l'art de mesurer [...] dédié à Monsieur de Vauban.
Strasbourg, Fr. G. Schmuck, 1693.
4to (205x155 mm), (16)-272-(4) pages and 27 folding plates. binding : Contemporary full calf, spine with six gilden compartments. Headcap worn, corners bumped. Few leaves cropped in margin.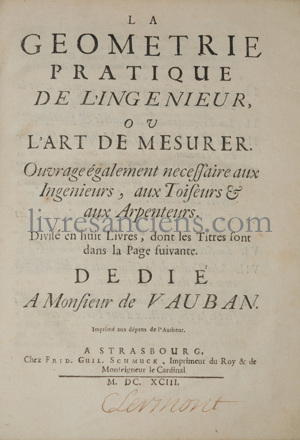 First edition.
"Clermont" wrote on the title page, like other copies of these edition.
Clermont, artilleryman and military engineer, dedicated his geometry book to Vauban. We understand this dedication on reading the eighth part of the book, which is entirely dedicated to the construction of fortresses. Vauban then supervised in France the construction of dozens of fortifications with clearly recognizable models.
Clermont explains to us the geometry allowing us to trace the famous Vauban fortresses.
Price : 550 €