DELILLE, Jacques. Les trois règnes de la Nature. 1808.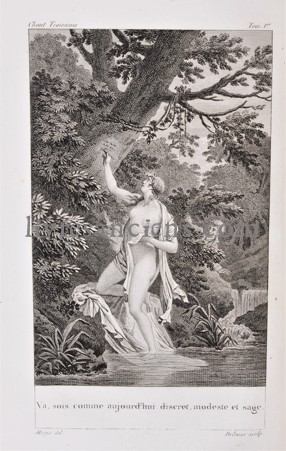 DELILLE, Jacques.
Les trois règnes de la Nature.
Paris, H. Nicolle-Giguet et Michaud, 1808.
Two 8vo (207x136 mm), frontispiece, 309-(1 bl.)-(1) pages / frontispiece, 282 pages. 2 pages of the editor's catalogu are missing. binding : Contemporary half calf, spine gilt in five compartments lettered in gilt, marbled edges.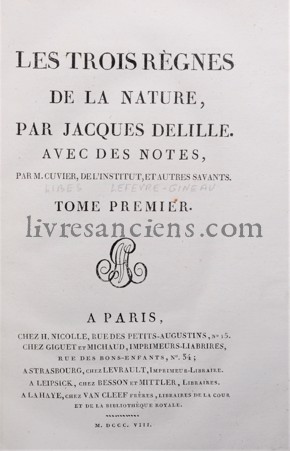 First edition.

Jacque Delille (1738-1813) published a treatise on verse physics, a type of didactic poetry to which his name is attached.
It is composed of eight parts: Light and fire, air, water, earth, mineral kingdom, vegetable kingdom, animal kingdom and the following of animal kingdom part. The notes are important because they are by Cuvier, Libes, and Lefèbre-Gineau.
Price : 150 €