DIONIS DU SEJOUR, Traité analytique des mouvemens, 1786
DIONIS DU SEJOUR, Achille Pierre.
Traité analytique des mouvemens apparens des corps célestes.
Paris, Veuve Valade, 1786-1789.
Two 4to (246x185 mm), (4)-xl-738-(2) pages and 3 folding plates /(4)-lvi-680 pages and 4 folding plates. binding : Contemporary full sheep, spine with six compartments. Binding slightly rubbed. Paper with foxings.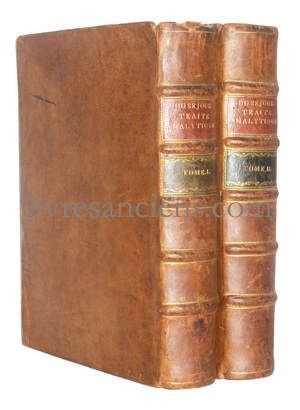 First edition.
Work described by Lalande as "the greatest work of analytical astronomy".
"After having applied analysis to all parts of astronomy, he collected all the memoirs he had published in the volumes of the Academy, perfecting them, bringing them together by a methodical sequence, making their principles more elementary , the more numerous applications, and he formed a large work of it in two large volumes in-4°, published in 1786 and 1789" (wikipedia).
references: DSB [IV, 107] Lalande [599].
Price : 3000 €