GATTI, Pratique de l'inoculation, 1767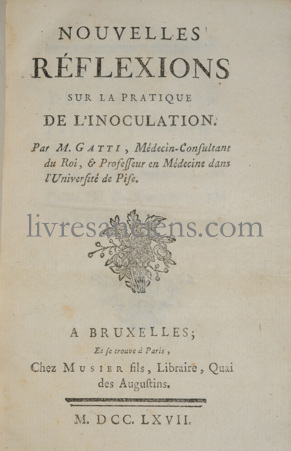 GATTI, Angelo.
Nouvelles reflexions sur la pratique de l'inoculation.
Bruxelles, Musier fils, 1767.
12mo (164x98 mm), (4)-204 pages. binding : Contemporary full paper, flat spine. Spine worn. Paper with strong foxings.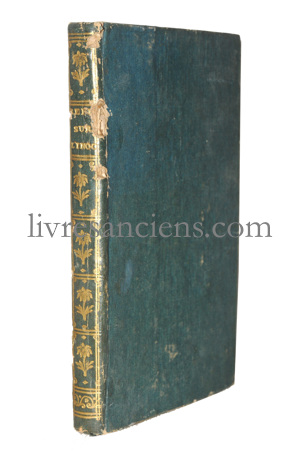 First edition.
"The name of the tuscan physician Angelo Gatti has been closely linked to the practice and promotion of the inoculation for smallpox. Before Jenner discoveries about vaccine, this medical technique was the only way to prevent an endemic and deadly disease like smallpox. In the second half of the XVIIIth century the inoculation for smallpox became a discussed practice, able to involved in the debate not only the scientific community but also the social and political milieu. Gatti arrived in Paris in 1760 where he became famous thanks to his masterpieces: the Réflexions sur les préjugés qui s'opposent au progrès et à la perfection de l'inoculation (1764) and the Nouvelles réflexions sur la pratique de l'inoculation (1767). "
Veronica Massai, Angelo Gatti e l'inoculazione del vaiolo (1724-1798), 2016

A practical manual for performing inoculation, an unsafe process that preceded Jenner's vaccination.
Price : 300 €