GLASER, Christophle. Traité de la Chymie. 1670.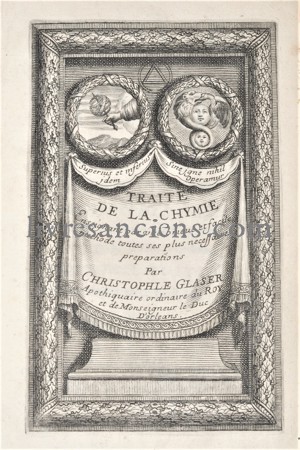 GLASER, Christophle.
Traité de la Chymie.
Lyon, Pierre & Benoit Bailly, 1670.
Small 8vo (175x105 mm), Frontispiece-(18)-394-(3) pages and 3 folding plates. binding : Contemporary full sheep, spine gilt in six compartments. Binding rubbed, caps worn. First blank restored. Foxings.

Third augmented edition.
Christophe Glaser (1629-1672?) Is a Swiss doctor and pharmacist who became ordinary apothecary of King Louis XIV. Nicolas Lemery will be trained at Glaser but quickly leaves him not supporting his almost esoteric teaching.
Glaser crosses the history in the poison case. It is most probably in her pharmacy that the Marquise de Brinvilliers obtained the vials of poison. According to his testimony Glaser was sent to Italy by Fouquet to learn the secrets of Italian poisons.
Caillet attributes this book to Moyse Charas, who indeed mentions in the preface to his Thériaque that he published a Treatise on Chemistry under the name of Glaser.

We find in this book, curious preparations such as human skull oil or the distillation of viper flesh.
references: Duveen [251] Dorbon [1873 pour l'eo] Caillet [II, p.167 et I, 2201].
Price : 900 €