[GOUPIL, Adolphe || NADAR, Felix || CARJAT, Etienne...] Galerie contemporaine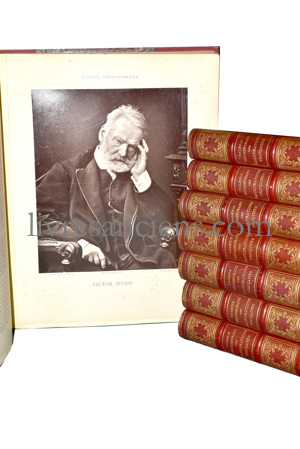 LACROIX, Paul de (éditeur).
Galerie contemporaine des illustrations françaises.
Paris, Paul de Lacroix, [1884].
Eight Folios (350x275 mm). Complete set. 200 biographical entries and 267 photographs. binding : Contemporary half chagreen, gilt-decorated spine in six compartments. Bindings signed by Magnier. Headedge gilt. Text paper with foxings. Covers rubbed. Some plates almost unbound. Portrait of Daudet has been fold.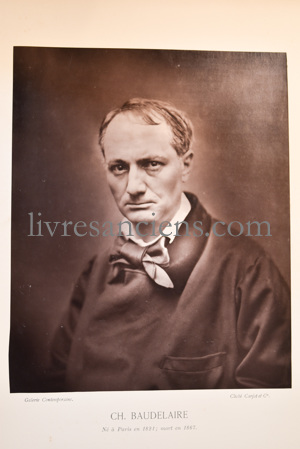 First edition.
Masterpiece of 19th century photography.

200 biographical chapters of 132 historical figures.

Copy complete with all the required notices and photographs.
Each chapter has 4 pages of text (8 for Corot 2 and Corot 3).

The series is therefore complete with the 200 entries for 132 biographies and is illustrated with 267 photographs:
- 131 portraits (65 in full-page and 66 in medallion in text)
- 136 reproductions of art works (135 in full-page and 1 in medallion the text).

Coming from the greatest photographic workshops (Nadar, Carjat, Goupil, Petit...) they are reproduced by photoglypie which is then the only printing process allowing such a faithful reproduction of photographic plates.

The portraits include the famous portrait of Baudelaire by Carjat but also those of Victor Hugo, Gustave Doré, Edmond de Goncourt, Ferdinand de Lesseps, Georges Sand, Sarah Bernhardt, Alexandre Dumas, Gustave Eiffel, Victor Hugo, Louis Pasteur, Emile Zola, ...
We added a rare "specimen" volume ( a commercial presentation volume).
references: Notice BNF [FRBNF43896881 : " Vers 1884, Paul de Lacroix (1806-1884) propose une édition pour bibliophiles en 8 volumes reliés par Magnier et ses fils sous le titre : Galerie contemporaine des illustrations françaises. La composition des volumes diffère d'une collection à l'autre (et parfois aussi les légendes) ; on note 5 portraits nouveaux : l'Amiral Courbet, Gustave Eiffel, le Cardinal Lavigerie, Pierre Loti, Louis Pasteur."].
Price : 6000 €