GRAVESANDE, Willem Jacob's. Elemens de Physique, ou introduction à la Philosophie de Newton. 1747.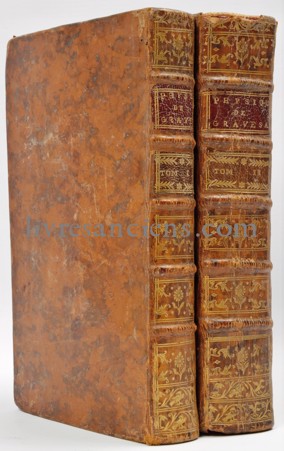 GRAVESANDE, Willem Jacob's.
Elemens de Physique, ou introduction à la Philosophie de Newton.
Paris, Charles-Antoine Jombert, 1747.
Two 8vo (197x120 mm), (8)-iv-356-(2) pages / (2)-iv-478(2) pages and 50 plates. binding : Contemporary full mottled calf, spine gilt in six compartments, title and volume number in gilt on lettering-pieces. One cap and corners worn, small lacks on the upper cover of part 2.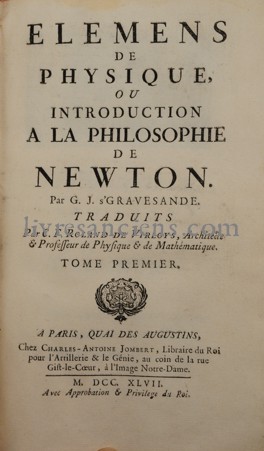 First edition of this translation; there was an other French translation by Elie de Joncourt which appeared in 1746.
Originally published in 1720-21, this summary of Newtonian physics was in itself an important work.
Fresh copy.
references: DSB [V, p. 510 : "The scientific reputation of'sGravesande is enshrined in this book ...(it) was easily the most influential book of its kind, at least before 1750. It was a larger, better-argued, and more philosophical work than most of its predecessors; moreover, it leaned heavely on Opticks (including the queries) as well as on the Principia ... The strength of his exposition was in his perfection of the method of justifying scientific truths either by self-evidence or by appeal to experimental verification in the manner already begun by Keill and Desaguliers, perfected by him through the design of many new instruments constructed by the instrument maker Jan van Musschenbroek."].
Price : 600 €