GREW, Recueil d'expériences...Le combat qui procède du mélange des corps. 1679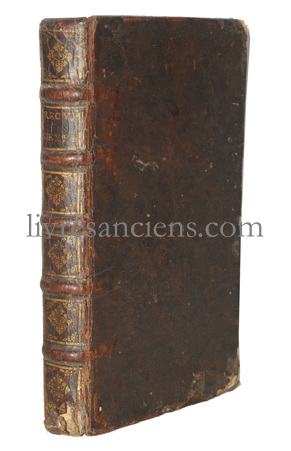 GREW, Nehemiah || BOYLE, Robert || LEEWENHOECK, Antoni Van.
Recueil d'expériences et d'observations sur le combat qui procède du mélange des corps. Sur les saveurs. Sur les odeurs.. Sur le lait. Etc...Très curieux et utile aux médecins et à ceux qui s'appliquent à la recherche de la nature, des qualitez et des proprietez de toutes sortes de corps.
Paris, Michallet, 1679.
12mo (155x87 mm), (16)-262-(2) pages. (frontispiece and plate are missing). binding : Contemporary full brown calf, spine with six compartments. Corners bumped, tailcap worn. The first flyleaf is missing. Title page scratched. Pages 217-217 cropped in outer margin.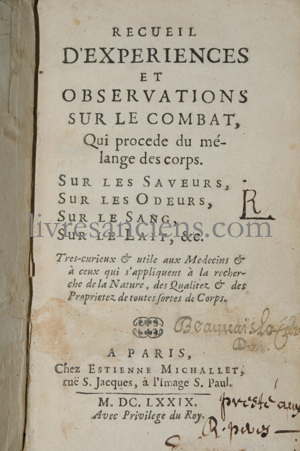 First french edition.

Collection of texts translated into French by Levasseur from respectively Grew, Boyle and Leewenhoeck:
- On the fight that comes from mixing various liquors with all kinds of bodies.
- On flavors and smells.
- Observations made with the Microscope on the blood and on the milk.

Uncommon work that Duveen qualifies as very rare.
references: Duveen [269 pour l'eo anglaise: "This seems to be a rare and important books, which entitles Grew to a place in the history of the development of the atomic theory."] Duveen [499 :"First french edition. Very rare collection of chemical treatise by N. Grew ("Sur le combat qui arrive du mélange de diverses liqueurs avec toutes sortes de corps", on pp.1-124) , Robert Boyle ("Sur les saveurs et sur les odeurs", the first french translation of "Mechanical qualities: Tastes and Odours", on pp.125-220), and Leeuwenhoeck ("Observations sur le sang et sur le lait" on pp. 223-262). The translator was L. Le Vasseur.] Ferguson [II,247].
Sold