HALLER, Disputationes chirurgicae selecta, 1755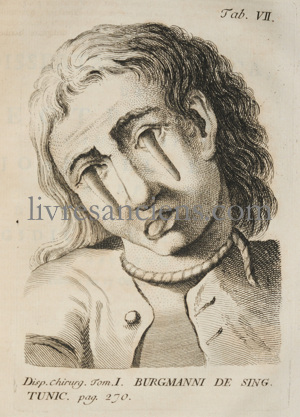 HALLER, Albrecht.
Disputationes Chirurgicae selectae.
Lausanne, Marci-Michael Bousquet, 1755-1756.
Five 4to (280x215 mm), (6)-606 pages and 8 plates / (2)-606 pages and 7 plates / (2)-655 pages and 10 plates / (4)-594 pages and 13 plates / (2)-viii-672 pages and 12 plates. Frontispiece is missing on volume I. binding : Contemporary full calf, spine with six compartments. Two first volumes bound differently than the others. Leather rubbed. Foxings. Caps worn.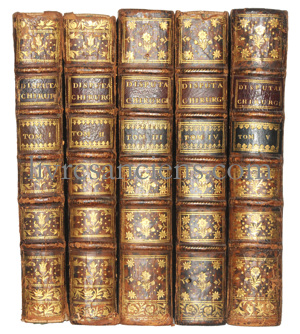 First edition.
Haller, the last universal genius of the Lumières, left an abundant and very broad work. Considered the father of modern physiology, he also contributed to the development of anatomy and surgery, of which he was chair in Gottingen until 1753.
A remarkable work for all 50 engraved plates offering striking scenes of surgery.
provenance: Bookplate from Antônio Bernardes de Oliveira.
Price : 700 €