IRSCHFELD, Traité et iconographie du système nerveux, 1866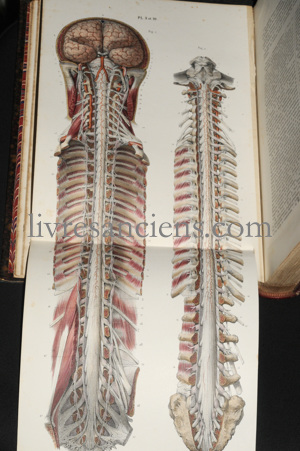 HIRSCHFELD, Ludovic || LEVEILLE, Jean-Baptiste.
Traité et iconographie du système nerveux et des organes des sens de l'homme avec leur mode préparation.
Paris, Masson, 1866.
8vo (236x150 mm), [Text] x-596 pages / One volume 4to (279x207 mm), [Atlas] (4) pages and 92 color plates with explanation leaves. binding : Contemporary quarter chagreen, spine with six gilden compartments. Headedge gilden. Bindings slightly rubbed. Foxings mainly on text volume.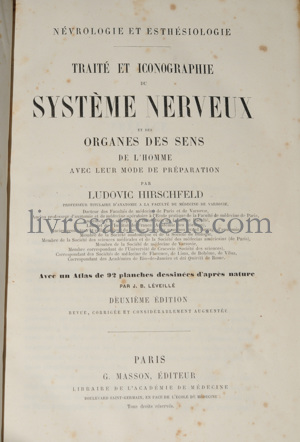 Second edition.
Complete copy of the superb plates by Jean Baptiste Leveille.
references: Heirs of Hippocrate [1833 :"Although Polish by birth, Hirschfeld spent a great part of his professional life in France, where he was professor of anatomy on the Paris Faculty of Medicine and a member of many scientific societies. In 1859 he was appointed professor of descriptive anatomy on the faculty of medicine at Warsaw where he completed his career. The extensive study of neuroanatomy during the latter half of the nineteenth century resulted in a plethora of atlases of the nervous system. The exquisite plates included in this comprehensive work were drawn by J. B. Léveillé (fl. 1850) and are some of the most detailed of the time."].
Price : 750 €