LEFRANC, Le Voile levé pour les curieux, 1826 Franc-maçonnerie
LEFRANC, Jacques François (Abbé).
Le Voile levé pour les curieux, ou histoire de la Franc-Maçonnerie.
Liège, Ve Duvivier et fils, 1826.
8vo (207x134 mm), xii-624 pages. binding : Contemporary half sheep, flat spine. Binding rubbed. Handwritten notes on halftitle. One corner broken with loss of cardboard.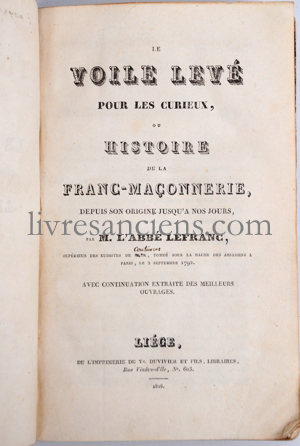 The most complete edition of this history of Freemasonry carried by a very negative prejudice.

"Complete account of the history of Masonry from its distant origins to the French Revolution. The author was massacred during the days of September 1792, in the Carmelite convent." Caillet.
references: Caillet [II, 6396 : "Ouvrage peu commun"] Dorbon [2568].
Price : 300 €