LEGUE & GILLES DE LA TOURETTE, Soeur Jeanne des Anges, 1886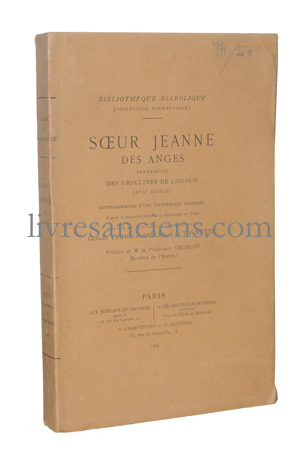 LEGUE & GILLES DE LA TOURETTE.
Soeur Jeanne des Anges supérieure des ursulines de Loudun, Autobiographie d'une hystérique possédée.
Paris, A. Delahaye et Lecrosnier, 1886.
8vo (228x143 mm), (6)-xiv-321-(5) pages et 2 planches dépliantes. binding : Original printed wrappers. Good copy. Booklets uncut.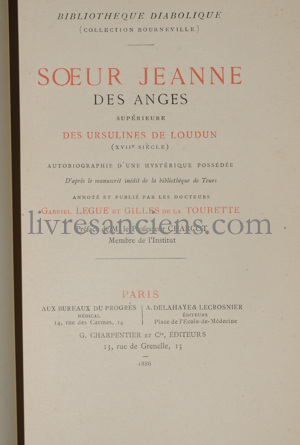 First edition.

Contains a reproduction of the famous letter from Asmodeus.
references: Yves-Plessis [1339] Caillet [II, 6420: "L'un des volumes les plus intéressants de la Bibliothèque Diabolique du Dr Bourneville. Savant ouvrage, dans lequel on voit chez la supérieure des Ursulines la passion hystérique se développer, se dérouler avec tout le cortège d'accidents nerveux caractéristiques qui appartiennent au grand type d'affection."].
Price : 75 €