LEGUE, Urbain Grandier et les possédées de Loudun, 1880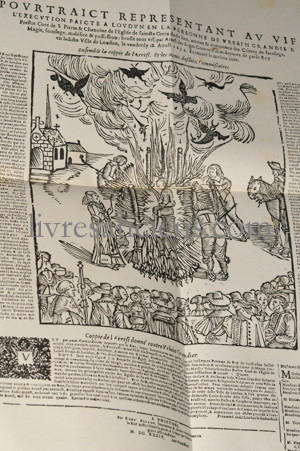 LEGUE, Gabriel.
Urbain Grandier et les possédées de Loudun.
Paris, Ludovic Baschet, 1880.
Large 8vo (280x185 mm), (6)-iii-(3)-327 pages and numerous plates. binding : Original printed wrappers. Under protective folder. Fresh copy.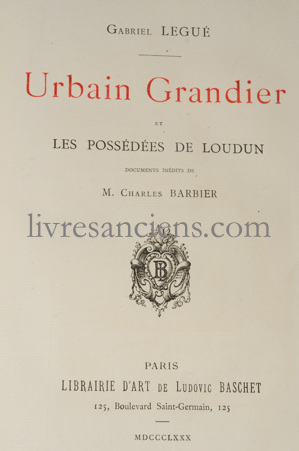 First edition.
The most beautiful book published on the affair of the possessed women of Loudun at the beginning of the 17th century which will end with the stake of Urbain Grandier.

Numbered copy on Holland paper (n ° 135/462).
references: Caillet [ II, 6419 :"Cet ouvrage dont l'érudtion et l'impartialité projettent un peu de clarté sur la sombre tragédie de Loudun, tire un vif intérêt des pièces qui y sont annexées. Ce sont plusieurs lettres fac-similé de Grandier, du gouverneur de Loudun, de Jeanne d'Estievre, de Laubardemont, de Madeleine de Brou, et même du diable Asmodée!"] Dorbon [2581] Yve-Plessis [1338].
Price : 120 €