LEMERY, Cours de Chymie, 1679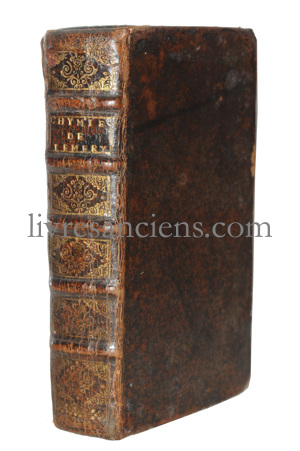 LEMERY, Nicolas.
Cours de Chymie contenant la manière de faire les opérations qui sont en usage dans la médecine, par une méthode facile.
Paris, Chez l'Autheur, 1679.
12mo (152x84 mm), (30)-659-(15) pages. binding : Contemporary full brown calf, spine with six compartments. Corners bumped. Paper with foxings. Head margins slightly cropped. Slight loss of text on the last leaf of table.
Third edition.
Like the very first editions, this one is published by the author.
The chymie course was for a long time the reference work for apothecaries.
references: Duveen [p. 347], Neville [ II, p. 39 : "One of the most influential chemists of his time, Lemery condemned the obscure alchemical mysticism of contemporary authors. He gave lectures on the principles of chemistry in a clear and simple way, including experimental demonstrations, from his manufacturing laboratory in Paris (...) The first and earlier edition of the 'Cours' were sold by Lemery from his house in Paris and are now very rare"].
provenance: "Durochel" on the edge of paper.
Sold