LICETUS, Fortunio. De Monstrorum Caussis, Natura & Differentiis. 1616.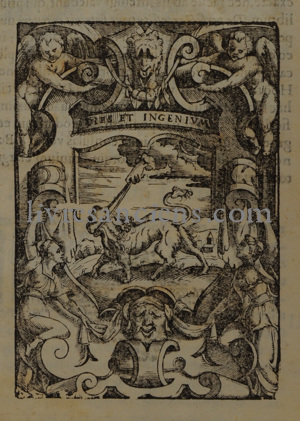 LICETUS, Fortunio.
De Monstrorum Caussis, Natura & Differentiis.
[Padoue], Gasparem Crivellarium, 1616.
Small 4to (193x147 mm), (16)-143-(25) pagesOne fullpage woodcut. binding : Nineteenth century wrappers. Tears touching the two first leaves, with loss of a few letters. A rodent nibbled the corner of a dozen sheets without loss of text but it has led to a waterstain on the lower angle of the whole textblock.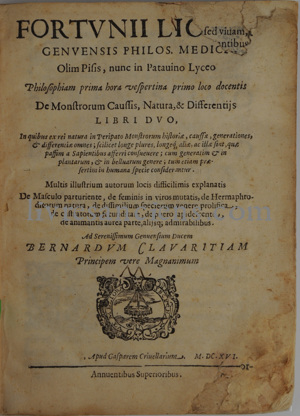 The very rare first edition of this famous treatise on monsters.
Fortunio Liceti born in Rapallo in 1577, was a man of prodigious scholarship. He published numerous books on medicine, natural history, philosophy and physics. His book on the nature of the monsters here in the original edition, is the first treatise on genetic abnormalities and embryonic malformations.
references: Garrison-Morton [534.52 : ""One of the earliest classifications of deformities, Liceti's work was still under review in works on malformation in the 19th century. Includes both real and imaginary cases."].
Price : 950 €