[MACQUER]. Dictionnaire de Chymie. 1766.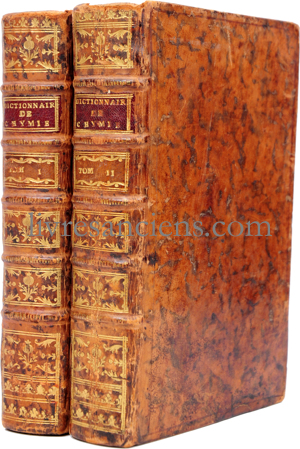 [MACQUER].
Dictionnaire de Chymie.
Paris, Lacombe, 1766.
Two 8vo (166x105 mm), xxvi-(2)-616 pages / (4)-686-(2) pages. binding : Full marbled brown calf. Spine gilt in six compartments with raised bands, title and volume number in gilt on lettering-pieces. Red edges. Upper caps ans corners chipped. Lower corner of page 163 (Vol 1) cut without touchin the text. Waterstains at the end of volume 2.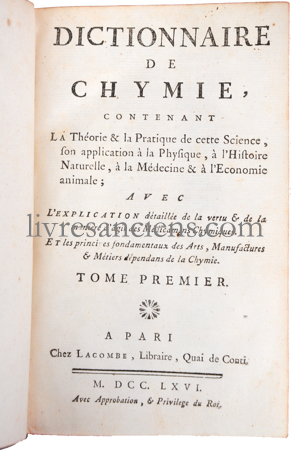 First edition.

Encyclopedia of all that was known about chemistry, the Dictionnaire is Macquer's most important work and a milestone of chemical literature.
Macquer published it anonymously because he was concerned that his reputation might suffer as he had not been able to make it as perfect as he wished.
references: Wellcome [IV,19], Neville & Smeaton [Annals of science 38, 1981], Duveen [377], Caillet [III, 6934], DSB [VIII, 619].
Sold