MAUPERTUIS, La Figure de la Terre, 1788

MAUPERTUIS, Pierre Louis Moreau de.
La Figure de la Terre, déterminée par les observations de messieurs De Maupertuis, Clairaut, Camus, Le Monnier, de l'Académie royale des sciences et de M. L'Abbé Outhier, correspondant de la même académie, accompagnés de M. Celsius, professeur d'astronomie à Upsal, faites par ordre du Roy au cercle polaire.
Paris, Imprimerie royale, 1738.
8vo (194x125 mm), xxiv-(4)-184 pages and 1 map and 9 folding maps. binding : Contemporary full calf, gilt spine in six compartments. Corners and caps worn. Covers slightly curved. Fresh paper.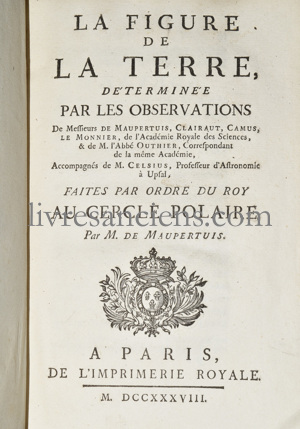 First edition.
Results of Maupertuis' expedition to Lapland to measure the Earth's median and experimentally confirm Newton's hypothesis that the Earth is flattened at the poles.
references: Norman [1458 :"Maupertuis and Clairaut made up part of the Academie's small but youthful and pugnacious band of Newtonians, who believed the shape of the earth to be that of an oblate ellipsoid. The expedition's results, which supported the Newtonian theory of gravitation, were met with hostility at first"].
Sold