[MEDECINE CHINOISE] CLEYER, Medicinae Sinicae, 1682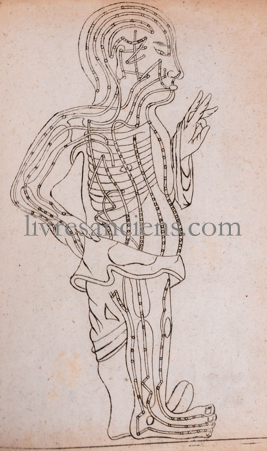 CLEYER, Andreas.
Specimen medicinae sinicae, sive opuscula medica ad mentem sinensium.
Francfort, Johann Peter Zubrodt, 1682.
4to (200x160 mm), (4)-48-99-(9)-54-(2 bl.)-16 pages and 30 plates. binding : Modern vellum, antic style. Two first and last leaves repaired on margins.
The table of the treatise on the pulse cropped touching last letters.
A brown stain at the top of the first and last leaves.
Paper with foxings/.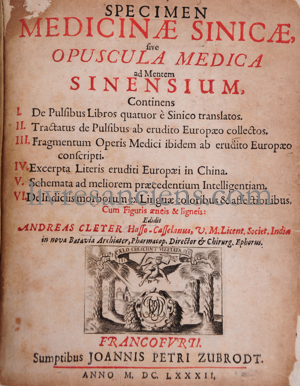 First edition.
The first illustrated book on Chinese medicine to appear in the West.
Andreas Cleyer (1634-1698) physician with the Dutch East India Company compiles here several medieval Chinese medicine treatises translated into Latin. We find in particular the "Mo Chüeh" treated on the pulse and the plates of the treatise on acunpucture by Chang Chieh-Pin.
It was in this book that Western culture first discovered a map of acupuncture meridians.
Several elements then unknown to European medicine are also treated there: diagnosis by examination of the tongue (numerous engravings in the text), and numerous herbalist recipes specific to the Chinese pharmacopoeia.
references: Garrison-Morton [6492 :" One of the earliest studies of Chinese medicine published in the West. Cleyer edited these translations of Chinese medical texts, reproducing a series of 30 plates dealing with Chinese pulse-lore. Acu-tracts are illustrated but no acu-points. The book concerns Chinese doctrines of the pulse rather than acupuncture. "]

Norman [489 :"The book's thirty remarkable plates, taken from Chang Chieh Pin's Lein ching (1624), represent the first acupuncture charts published in the West; unfortunately, these were dubbed "anatomical" by Western writers, causing much confusion and misguided criticism. Cleyer's work provoked much interest in the West, particularly in England"].
provenance: Signed on front fly leaf (restored leave) by Thomas Pettigrew (1791-1865) famous surgeon and antiquarian specialized in mummies. Several hadwritten ex libris on title page and blanks from english family. Bookplate unidentified with antelope.
Price : 9000 €