[MONTESQUIEU, Charles Louis de Secondat, Baron de]. De L'Esprit des Loix. 1749.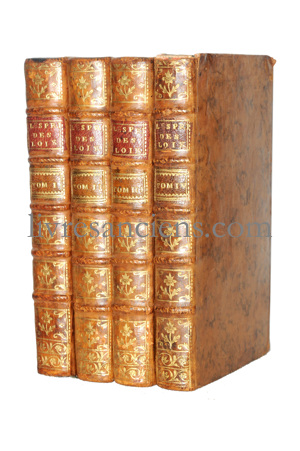 [MONTESQUIEU, Charles Louis de Secondat, Baron de].
De L'Esprit des Loix.
Amsterdam, Chatelain, 1749.
Four 12mo (165x95 mm), (16)-vi-(1)-296-(8)-[297-348] pages / (20)-386 pages / (18)-382 pages / (14)-400 pages. In the first volume, four preliminary leaves have been bound between pages 296 and 297. binding : Contemporary full calf, spine with six compartments. Headcap worn on volume 4, corners slightly bumped. Fresh copy. Tear on page 57 in volume I.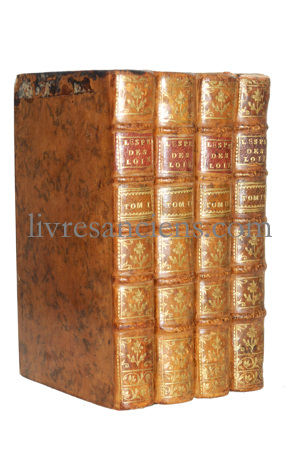 Major work of the 18th century.
The original edition will appear in Geneva in 1748, the success was immediate and many reissues were published throughout Europe before the book was put on the index in 1751.
This 12mo edition spotted by Quérard repeats the second corrected edition published in 1749. It contains the warning which includes all the modifications made by Montesquieu to the first edition.

De l'Esprit des Loix, innovates in several areas: the adjustment of laws to human society, the separation of powers, and a theory of climates which will have effects even in the structuralism of the twentieth century.
Durkheim will see in Montesquieu's work the origins of a new science: sociology.
references: Quérard [VI, 239].
Price : 500 €