NEWTON, La chronologie des anciens royaumes corrigées, 1728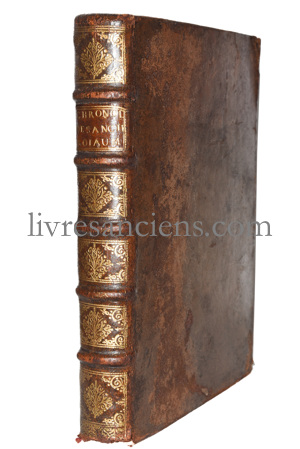 NEWTON, Isaac.
La chronologie des anciens royaumes corrigée. A laquelle on a joint une Chronique abrégée, qui contient ce qui s'est passé anciennement en Europe, jusqu'à la conquête de la Perse par Alexandre le Grand.
Paris, Gabriel Martin, 1728.
4to (240x180 mm), (40)-416-(4) pages and 3 folding plates. binding : Contemporary full sheep, gilt spine in six compartments. Booklets slightly misaligned. Caps worn, binding rubbed.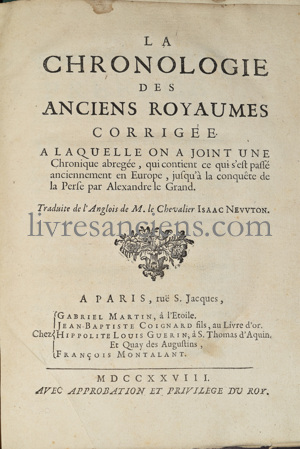 First french edition.
Chronology of the great ancient civilizations, Greeks, Egyptians, Assyrians, Persians.
An abridged edition was published in 1725 against the advice of Newton, he will work on this edition until the end of his life and it will be published in English posthumously in 1727.

The 3 plates represent the plans of the temple of Solomon.
Price : 900 €