Oeuvres des frères GUIJON, Dijon, 1658, Exemplaire de la bibliothèque Petau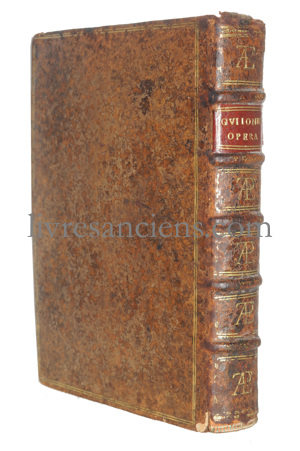 [Bibliothèque PETAU] Frères GUIJON || de La MARE, Philibert.
Iacobi, Johannis, Andreae, et Hugonis fratrum Guiioniorum opera varia ex bibliotheca Philiberti De La Mare.
Dijon, Philibert Chavance, 1658.
4to (225x170 mm), (46)-611-(1) pages (two leaves inserted in preliminary discourse from "bibliothèque des auteurs de Bourgogne" by Abbé papillon to serve as bibliography of Jacques Guijon). binding : Contemporary full calf, spine with six compartments gilded for Alexandre Petau. Leather rubbed. Paper with some foxings and waterstains (ink stains on two first leaves). Few handwritten notes in the margins (XVIII° century) about Autun history.
First edition.
The Guijon Family was a famous family of scholars from Autun in the second half of the 16th century. The four Guijon brothers whose works in Latin and French on very diverse subjects are gathered here were lawyers (Jacques, Jean and Hugues) and oratorien (André). There are mixed poems, legal articles (including the Remontrance on fulminatory sentences) or even a short article on the solar eclipse of 1605.

Their father Jean Guijon traveled to the East and brought back a New Testament handwritten in Greek written in the 11th century.
This is perhaps what attracted the attention of Alexandre Petau (1610-1672), who had assembled one of the most fabulous collections of pre-Carolingian lithurgical manuscripts of his century. This library of Petaviani manuscripts was purchased by Queen Christina of Sweden and is now part of the Vatican library.
provenance: Bookplate from Alexandre Petau.
Price : 750 €