PASCAL, Pensées de M. Pascal sur la religion, 1670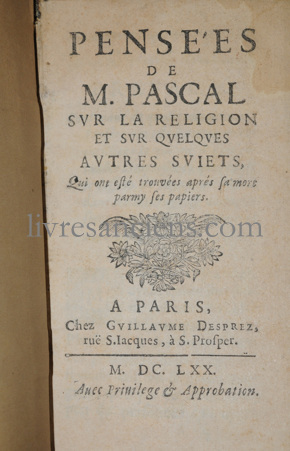 PASCAL, Blaise.
Pensées de M. Pascal sur la religion et sur quelques autres sujets qui ont été trouvées après sa mort parmy ses papiers.
Paris, Guillaume Desprez, 1670.
12mo (136x80 mm), (82)-365-(21) pages. binding : XXth century full vellum, flat spine with title piece. Booklets misaligned.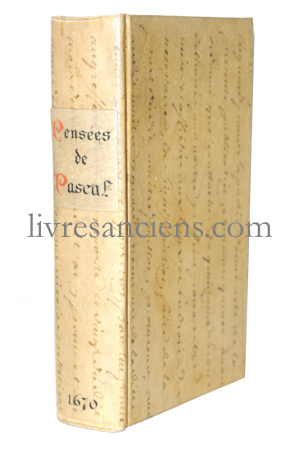 Counterfeit of the Pensées, with the same collation of the first edition.
This edition with a slightly different title was spotted by Tchermerzine (V,71).
references: En français dans le texte [121 pour l'EO : "Les Pensées occupent une place unique parmi les ouvrages d'apologétique à cause de leur profondeur philosophique et religieuse et de la puissance de leur style"]
Tchermerzine [V p.71 : "contrefaçon ... Le monogramme de G. Desprez y est remplacé par le fleuron des Provinciales"].
Price : 750 €