POTT, Perceval. Oeuvres chirurgicales de M. Percival Pott. 1777-1792.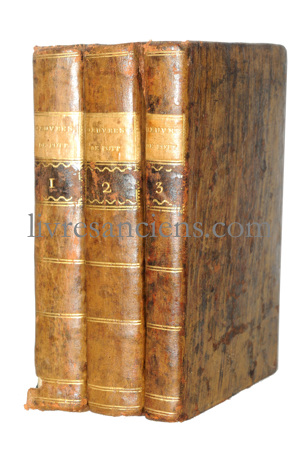 POTT, Perceval.
Oeuvres chirurgicales de M. Percival Pott.
Paris, Didot jeune, 1777-1792.
Three 8vo (195x125 mm), xvi-493 pages / (4)-552 pages / xvi-248 pages. binding : Contemporary full sheep, flat spines. Corners bumped. Tailcap worn on volume II. Few foxings, stronger on volume II.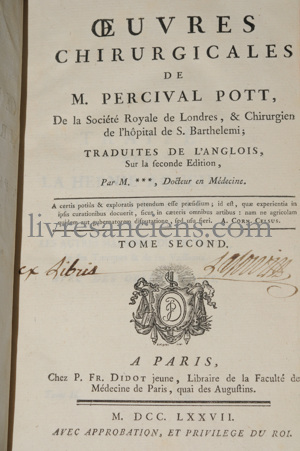 First edition in French.
Percivall Pott (1714-1788), was an English surgeon specializing in the treatment of hernias. He is notably the first to describe congenital hernias. The major part of these surgical works is moreover devoted to the description and the treatment of the various hernias.
The third and last volume was published fifteen years after the first two, in 1792 by Barrois. The translator wishing to complete the Works after the death of Pott (of which he made a short biography in preliminary).
We find in this last volume the description of the curvature of the spine, which will be called Pott'disease (tuberculous arthritis of the intervertebral joints).
references: Garrison-Morton [3576 : "Pott was surgeon to St. Bartholomew's Hospital. Through a fall in the street he was confined to bed for many days, and during that period wrote his classic book on hernia. He refuted many of the old theories concerning its causation and methods of treatment based on these theories."].
provenance: Unindentified handwritten ex libris on title pages.
Price : 500 €