ROLLO, Traité du Diabète sucré, 1797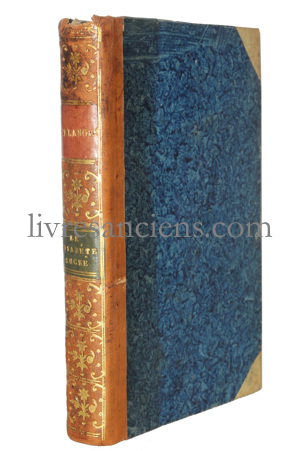 ROLLO, John.
Traité du Diabète sucré ou affections gastriques et maladies qui en dépendent.
Marseille, Moutardier, An VI 1797.
Two works bound in one 8vo (195x125 mm), Nicolas : (4)-99 pages / Rollo: (4)-iv-100 pages / vi-158 pages. binding : Contemporary half sheep, vellum corners, flat spine. Headcap worn.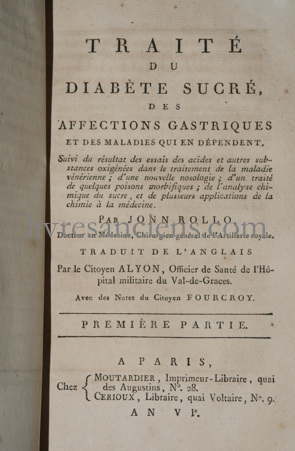 First edition in French.
Rollo is the first to offer treatment for diabetes through dietary restrictions. He proposes to have a very meaty diet and to do without vegetables.

Rollo's work is bound with the following:
NICOLAS, Medical and chemical research and experiments on diabetes mellitus, Paris, Méquignon, 1803.
references: Garrison-Morton [3930 :"He was a pioneer in the systematic treatment of diabetes by restricted diet"].
provenance: Bookplate from D.Baumes.
Price : 250 €